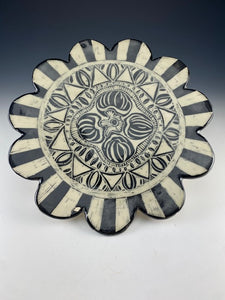 Main Street Gallery
Sgraffito Workshop
Regular price
$50.00
$0.00
Unit price
per
Join us Saturday, November 4 for a Sgraffito Workshop. Instructor of art at Jones College, Melanie Eubanks will teach the workshop.
Sgraffito is a decorating pottery technique produced by applying layers of color to leather hard pottery and then scratching off parts of the layer(s) to create contrasting images, patterns and texture and reveal the clay color underneath.
Cost of this workshop is $50.00 and is open to artists as well as potters.
Melanie Eubanks is a ceramic artist who works primarily in stoneware and porcelain. Most of her work is functional and fired in a wood burning kiln. Wood burning kilns create irregular surfaces due to wood ash adhering to the side of the objects facing the flame. Often Melanie's work is decorated with sgrafitto. These carved images usually reference the organic shapes of nature. She fires her work at various kilns in Louisiana, Alabama and Florida. She has taught art at Jones College for almost 30 years. She is a graduate of USM with degrees in Painting and Drawing and Art Education.
---